Everyone was up at 7:00 for breakfast at 8:00. The buffet breakfast included with our rooms was very good again. During breakfast a monkey was hovering around the edge of the open air restaurant and was constantly chased off by the monkey patrol guy. However monkey man let up his guard for a second and in a flash the monkey grabbed a waffle off a lady's plate and was gone. After breakfast it was back to the room to pack for our airport shuttle departure at 11.











click picture to enlarge
We arrived at the airport at 11:45 to pandemonium. First we went through baggage x-ray where Lee would have lost her suitcase except for a vigilant Harold. He kept it moving forward while Lee was oblivious to having left it behind. From there it was to the British Airways check-in counter, then Customs, passport control and into the passenger lounge.
It was in the lounge that we discovered our 1:15 flight was delayed till 3:10 due to a morning fog in Jo'burg backing up flights for the day. Our Boeing 737 finally arrived when they said it would, we boarded and away we went. It was again a nice 1 ½ hour flight with free beverages and a complimentary sandwich.
After we landed in Jo'burg it was onto the shuttle, into the terminal, thru passport control again and to the luggage carousel. It was a fair hike from there to our hotel-for-the-night shuttle but we finally made it. And while we were hoofing it through the terminal, we ran into our Afton House driver from a few days ago. We finally managed to catch the shuttle but as we were pulling up to the Mondior Hotel entrance two full tour buses pulled up. Pandemonium in the lobby, but they had a special desk set up to distribute the keys for the bus people. We checked in and went up to the room for a hot shower before dinner.






click picture to enlarge
We ended up at Platia Greek Restaurant at the Emperors Palace complex for dinner. Emperors Palace is a Las Vegas style resort that includes four different hotels, 20 or so restaurants, a shopping mall and of course, a casino. Our Greek dinner was excellent and ended with a shot of Ouzo, breaking plates on the floor and joining in on a Greek conga line. We had some laughs and a lot of fun.





click picture to enlarge
From the restaurant, it was over to the casino. Their system for putting credits onto a machine was complex at best, but we finally managed to load the beasts and play for an hour or so. Lee dropped 110.00 rand and I made 400.00 so we did alright. Harold and Wendy made out about the same.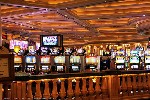 click picture to enlarge
At 11:00 we decided to call it quits and were in bed by 11:30.